Audio Conference
Harness the power of contact center-as-a-service
Meetings on-the-fly with Audio Conferencing
On-demand audio conferencing is an easy-to-use service that enhances your business productivity. It's a low-cost and complete solution capable of hosting hundreds of attendees with no reservations required and no time limits imposed. Simply enter your virtual conference number and ID code. It's that easy!
Take Charge of Your Conferences with Easy-to-Use Features
Once in your virtual conference room, follow simple audio prompts to access a host of features that will give you complete control of your meeting. Use our Moderator Web Interface for even greater functionality and feature control.
Quick Set Up
For single-click access to conference control, use the CommPortal Conference widget on a website. Or set up and manage the call from your desktop or smartphone.
Dial In or Dial Out
Schedule a meeting where participants dial in at a specific time or add participants on-the-fly by simply dialing out during the conference.
Roll Call and Lock – Take roll call of participants and then lock your conference room when everyone is present to enhance security and prevent interruptions.
Recording
Start recording through your phone prompt or web interface. Your recording will be available in .WAV format for download through your Moderator Web Interface. Easily review, distribute, transcribe or archive.
Real-time Attendee List Updates
See who is on the call at any time.
Muting
Mute all or select participants as needed by topic or to silence background noise.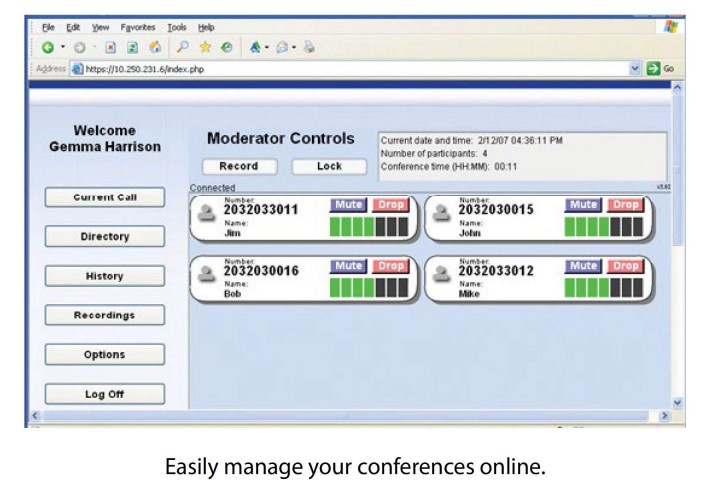 Metaswitch, Metasphere and CommPortal are trademarks of Metaswitch Networks. Other brands and products referenced herein are the trademarks or registered trademarks of their respective owners. Feature availability may vary.