INTERNET FAX TO FAX
Harness the Power of Internet Fax
Finally, a Modern Faxing Solution That Works
The Internet has changed the way your company does business. Instant connections with customers, employees and suppliers enable seamless communications. You can take calls, process transactions, access productivity applications and even host video meetings on the Internet.
SO WHY DOESN'T YOUR INTERNET FAX WORK?
Despite a technical standard (T.38) designed to make faxing work over the Internet, jitter, packet loss and sync issues cause many Internet faxes to fail. As a result, even digital-savvy companies have gone back to analog phone lines for faxing.
Our Reliable Internet Fax to Fax Solutions
Instead of trying to make T.38 work, we take it out of the equation altogether. We deliver a reliable Internet Fax solution using TLS encryption and a simple appliance between your fax machine and our cloud data center.
Our unique Internet Fax to Fax solution is not affected by jitter or packet loss and works perfectly even over the poorest of Internet connections, including Wi-Fi and satellite. In fact, our success rate for fax delivery is even higher than over analog lines.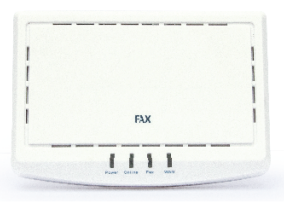 How Internet Fax to Fax Works
Using proprietary software, we transform an Analog Telephone Adapter (ATA) into a local fax machine.
We place the Fax ATA on your premises between your fax machine and a secure Internet connection to our cloud data center.
Our Fax ATA accepts, encrypts and compresses the fax data locally and transmits it to our data center where smart routing delivers the fax to its destination.
Delivery confirmation is sent to you via email and/or fax machine.
Incoming faxes are received at our data center, sent securely to your Fax ATA and then delivered to your fax machine or email address.
BENEFITS OF INTERNET FAX TO FAX
Keep Your Fax Machine

With our service, there's no need to buy new fax machines or create electronic fax accounts for all users on your team. It's business as usual.

No Retraining

Since you keep your fax machine, you don't need to train your staff to use a new device or electronic fax application.
Never Miss a Fax

If your fax machine or Fax ATA is offline, faxes queue until they're back online, so senders never get a busy signal and you never miss a fax.

Always Secure

We encrypt all outgoing and incoming faxes, so you don't need to worry about transmitting sensitive information.
Replacement Warranty

Our plug-and-play Fax ATA works out of the box. If the appliance stops working during your first year of service, we'll replace it ‐ free.

Eliminate Analog Lines

Make the final switch to IP communications by canceling analog lines you no longer need to connect to your fax machines, and receive one telecom bill.
USE CASES FOR INTERNET FAX TO FAX
Data Privacy Compliance
Internet Fax to Fax is a way to securely transmit personal information in the Medical, Financial, Legal, Education and Government industries.
High-volume Faxing
If your company sends and receives large numbers of fax communications via fax machine from customers or suppliers, Internet Fax to Fax is for you.
Going Digital
Businesses making the transition from analog lines to cloud phone systems can now cut ties with their analog lines altogether.