As-a-Service Solution for Call Quality Management & Compliance
If your company makes and takes calls from customers, suppliers or partners, or if you have a call center, then call recording is a must. Most importantly, it can help you comply with regulatory requirements, but it's also useful for training, ensuring quality and, if needed, resolving disputes.
CALL RECORDING BENEFITS
Enhance the productivity of your employees
Improve the efficiency of your communications
Boost the effectiveness of your sales processes
Increase your marketing and business intelligence
Resolve disputes quickly with proof of the conversation
Comply with legal and regulatory requirements
Minimize liability by identifying and correcting problem areas or agents
TAP CLOUD'S ADVANTAGES FOR YOUR BUSINESS
Uniquely, our call recording solution is cloud-based and delivered "as a service," so you get an enterprise-grade platform that's highly reliable, scalable, secure and available immediately on a subscription basis.
No Equipment to Buy
Leverage our enterprise-class call recording platform, located in our secure data center, with no need to add any hardware on site.
Pay as You Go
There's no upfront capital investment required, you pay for the call recording services you need as a monthly subscription.
Scale Easily
Our cloud-based system can quickly and easily scale to thousands of users across distributed locations.
Offload Management
There's no need for you to administer and manage the call recording system; our expert engineers do it for you 24/7/365.
Ensure Privacy
We offer multilevel access control and partition multitenant resources to ensure data protection and customer privacy.
Support Virtual Workers
Our cloud platform is accessible to remote and mobile workers who have an Internet connection.
SEAMLESSLY INTEGRATED WITH YOUR COMMUNICATIONS SERVICES
Our call recording solution is flexible and is integrated with our SIP Trunking service and our cloud-based hosted PBX and unified communications as a service (UCaaS) solution. Plus, you can seamlessly integrate our call recording solution with third-party applications, such as CRM and help desk systems, to achieve superior customer service and maximum business results.
INSTANTLY BENEFIT FROM THESE EASY-TO USE FEATURES
Web-based User Interface – Access your call recordings anytime, anywhere with our intuitive, user-friendly web interface. No desktop software required.
Intuitive Call Search & Playback – Quickly and easily search millions of calls by any parameter, such as date, time, caller/callee number, number or agent's name. Or simply type in a search term. Playback is available from your browser window.
Multiple Recording Options – Record all calls automatically, select calls to be recorded based on rules or specific criteria, or initiate call recording on-demand from your web browser or IP phone.
Look Back Technology – Recover conversations from the beginning – even for calls already in progress. With our Look Back feature, you won't miss a single word.
Centralized Multisite Call Recording – Record calls made to and from multiple locations or branches.
Desktop Phone Integration – Save time with one-touch recording from your IP phone. (Available from select manufacturers.)
Real-time Dashboard – Gain a real-time picture of your performance with our dashboard showing calls per day, call duration, active calls, total number of recorded calls and more.
HOW IT WORKS
Call details and audio streams are sent to the call recording server in our highly reliable and secure cloud- based network. Recordings are accessed remotely via any web browser.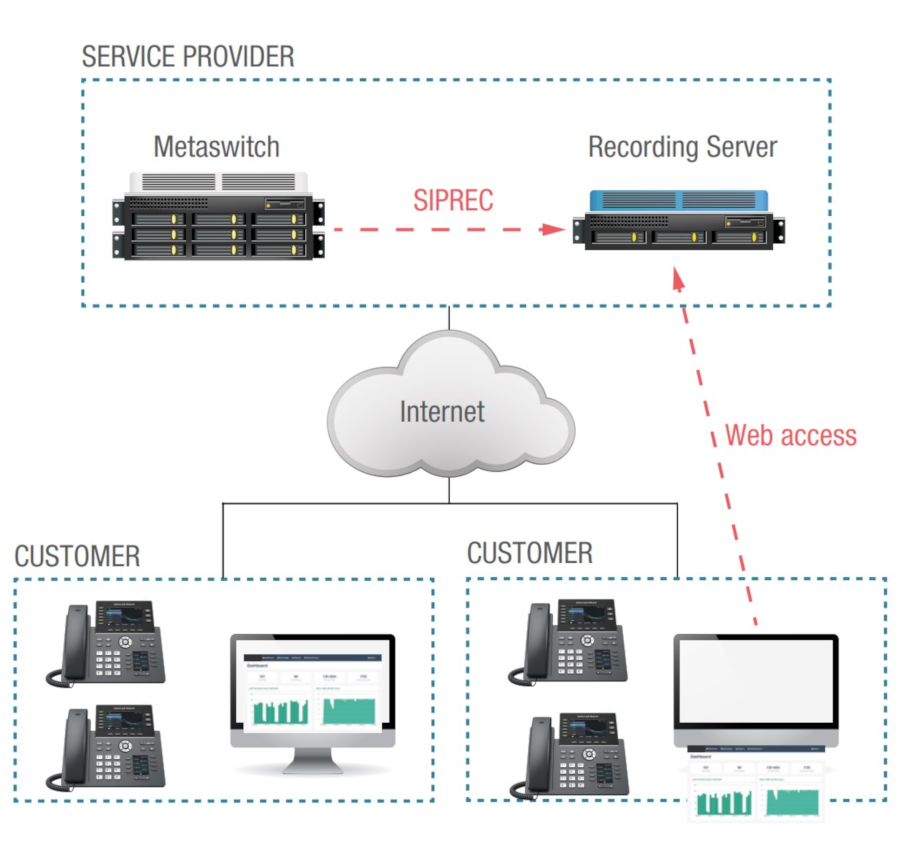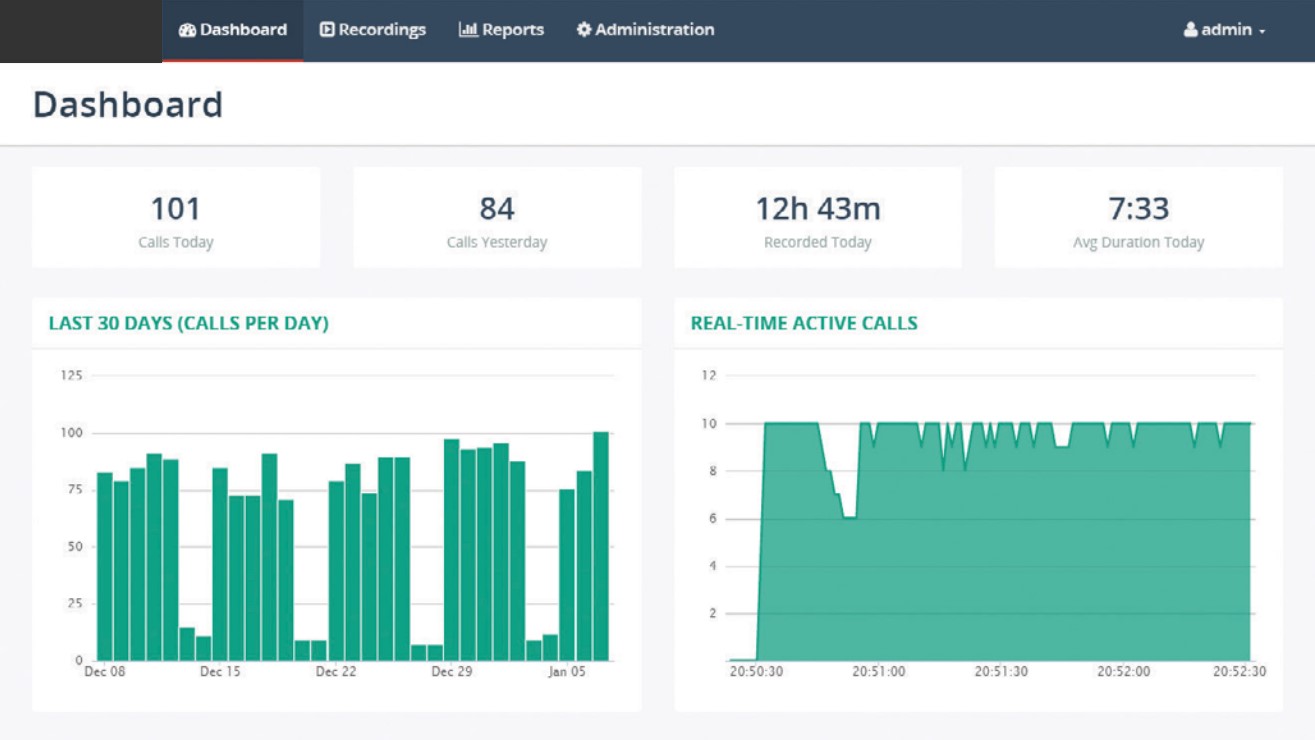 MONITOR CALL PERFORMANCE
Reporting – Generate statistics for calls, day, users, employees' performance and more with our comprehensive reporting features.
Live Monitoring – Monitor employee's calls in real time to guide and support agents in delivering deliver optimum customer service.
Customizable Score Cards – Evaluate employees or call center agents using built-in score cards or quickly customize existing evaluation forms with this optional, add-on feature.
INSTANTLY BENEFIT FROM THESE EASY-TO USE FEATURES
Our call recording solution can help you comply with legal requirements, such as PCI-DSS, HIPAA, Sarbanes Oxley, FIPS, FPS and more, with these features:
Customizable Access Privileges – Define user roles and access to functions, such as playback, live monitoring or administration.
File Watermarking – Validate the authenticity of any .wav audio file with our application.
Audit Log – Monitor sensitive information to ensure maximum security and regulatory compliance.
Pause & Resume Recording Triggers – Automatically pause and resume the call recording process to omit sensitive data, such as cardholder information with this optional, add-on feature.
Encryption & Advanced Security – Ensure the highest security with 256-bit AES file encryption and access to call recording via SSL/HTTPS connections with this optional, add-on feature.