A Better Way to Send & Receive Fax Documents
Stationary fax machines are a thing of the past. Today, you need a faxing solution that's more flexible – one that can meet the demands of an increasingly mobile, all-digital world. Our Hosted Fax solution is the answer. Hosted Fax delivers the functionality you expect from traditional fax machines plus the flexibility, cost advantages and advance capabilities of a modern cloud service.
No upfront costs for hardware and software
Scales with your company as it grows
No extra cost for upgrades or enhancements
Predictable subscription-based pricing
STREAMLINED & SECURE
COMPARED TO TRADITIONAL FAX MACHINES
Boost Information Security

Prevent data loss and privacy breaches by securely routing fax to intended recipients.

Fax on the Go

Send and receive faxes anytime, anywhere, from any mobile device – laptop, tablet or smartphone.

Track Chain of Custody

Get a complete audit trail for incoming faxes, including recipient, arrival time and contents.
Eliminate Lost Faxes

No more trips to the fax machine only to return empty-handed because a co-worker picked up your fax.

Speed Response Times

Automatically route incoming fax documents to the right departments or individuals for immediate action.

Improve Workflow

Automatically route incoming fax documents to collaboration and workflow applications.
Flexible Usage Plans

Choose the plan that best meets your business needs, up to 1,000, 5,000 or 10,000 pages per month.

Keep Your Fax Numbers

If you've got published fax numbers can port them to the new service, add more numbers or start fresh.

Search Fax Content

Automatically convert and store fax documents in PDF format for full-text search and retrieval.
SECURE FAXING AS-A-SERVICE
While use of email and messaging have grown, some business, government, academic and non-profit organizations still rely on fax in one way or another. That's in part because their customers are still using it, but it's also because faxing is considered a secure method for confidential communications, especially in regulated industries.
Our Hosted Fax solution improves on faxing's strengths with tightened information security and eliminates its weaknesses, including manual, time-consuming processes for users and day-to-day maintenance of systems for your IT organization.
ACCESS ENTERPRISE-CLASS FEATURES
Inbound and outbound service
Support for 40+ file formats, including PDF, JPEG, DOC and GIF
Fax number porting or assignment
Secure server with SSL encryption
Inbound and outbound serviceHigh-availability cloud infrastructure
Network diversity and redundancy
End-to-end quality management
Support for PCI-DSS or HIPAA
CONVENIENTLY SEND & RECEIVE FAXES FROM ANY CONNECTED DEVICE
VIA WEB PORTAL
Send and receive fax documents from your desktop PC or mobile device by logging into our online web- based portal.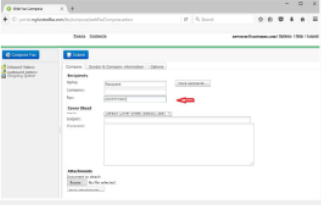 Simply fill in the recipient's information, fax number, subject line and comments to create a cover sheet. Browse files stored on your device to add attachments and click "submit" to send your fax document.
VIA EMAIL
Send emails, including attachments, as faxed docurrtents from your registered email account..
Use any mail client that supports SMTP, including Microsoft Outlook, Outlook Express and Mozilla Thunderbird. Or, use the web interface of your mail service like Office365, Outlook OWA, Gmail, Yahoo, MSN, etc.
SAMPLE USE CASES FOR HOSTED FAX
Accounting
Route faxed payroll documents to accounting for processing by the first available specialist.
Insurance
Enable agents to send quotes and claim forms to customers and receive orders and claims via fax.
Legal
Enable lawyers to securely fax affidavits and filings while at the office, in court, or at a client site.
Health Care
Ensure privacy of test results or patient records by routing them via fax to a lab or recordkeeping.
Human Resources
Ensure privacy of employee data with secure receipt of faxed W-4, I-9 and payroll forms.
Real Estate
While showing properties, agents can receive, annotate and send faxes from their email.