The Secret to a Scalable, Seamless Customer Experience
Every customer touch point matters – not only sales or service calls, but also day-to-day appointment reminders, delivery notifications and promotions. As your business grows, the volume of routine communications also grows, challenging your sales and service teams to deliver a consistent customer experience.
Automated & Personalized Communications
Our Dynamic Notification solution can help you deliver seamless and personalized interactions by automating outbound communications with your customers using their preferred channel:
Applications Across the Customer Lifecycle
Dynamic Notification can be used to automate a range of communications throughout the customer lifecycle – from purchase to payment.
Sales & Marketing
Campaigns
Promotions
Orders
Service Delivery
Deliveries
Installation
Reservations
Customer Care
Scheduling
Reminders
Satisfaction Surveys
Finance
Account Balances
Payments
Collections
GET MORE FROM YOUR CLOUD CONTACT CENTER
Cloud Contact Center enables multiple channels of communications between your customers and your sales and service teams. Dynamic Notification expands their capabilities exponentially by:
Automating routine interactions
Freeing up agents to resolve service issues
Enabling sales reps to focus on selling
Generating sales leads with no human intervention
Increasing on-time payments
Decreasing no-shows for appointments and deliveries
Reducing trouble calls with pre-emptive notifications
Improving customer satisfaction
SEAMLESS INTEGRATION & SIMPLE INTERFACE
Dynamic Notification functionality is tightly integrated in our Cloud Contact Center giving your customers the option to respond and reach a live agent.
Manage text campaigns from the Cloud Contact Center Admin Portal:
Build and access a library of message and phrase templates
Schedule voice, email or SMS messages
Access text-to-speech capabilities in six voices with English, Spanish and French options
Access reports from the Dynamic Notification Dashboard:
See real-time campaign status
Export campaign reports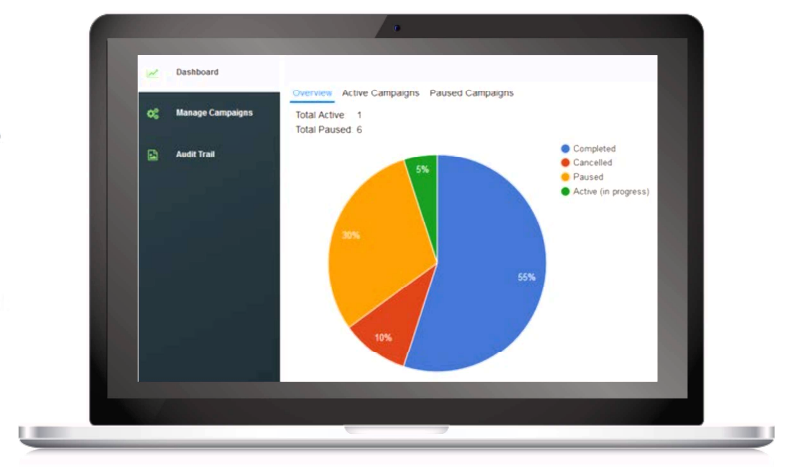 AVAILABILITY & COMPATIBILITY
Dynamic Notification can be enabled with our Cloud Contact Center solution paired with our hosted PBX, or any premises-based PBX connected to our SIP Trunking service.
Health Care
Appointment Reminders
Real Estate
Open Houses & Visits
Travel & Hospitality
Reservations & Surveys
Services
Installation & Outage Notifications
Banking
Account Balances & Payments
Transportation
Pick-up Reminders & Scheduling
Retail & B2C
Deliveries, Orders, Promotions & Collections
Education
Notices, Weather & Emergency Alerts
Utilities
Robocall Activity, Outages, Updates & Collections