April 16th, 2017 by admin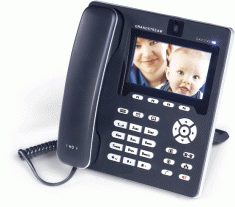 It seems like technology is evolving at a break-neck speed these days, expanding into almost every industry with innovative solutions. This also applies to the corporate environment, where cost-saving measures compete with the need for close collaboration in competitive markets. One way that your business can save on expenses, is by reducing business travel with more face-to-face video interactions. But who has the time and resources to organize large video conferencing meeting rooms and sessions? Teletronics can bring your company to a new world of fast and easy multimedia communication with Granstream's IP Telephony products.
Grandstream offers a variety of different video integrated systems full of useful features and functionality. With the touchscreen desktop phone, you can easily select a contact and connect over video, right at your desk. See your family's face when you check in at lunch or connect with your colleague on the other coast to discuss a project or laugh over an inside joke. Enjoy how the HD quality of the audio and video enhances your communications and brings you closer together.
Teletronics would be happy to sit down with you and discuss your current IT infrastructure's capabilities versus your long-term communication needs, in order to find the right solution. We want to help your team members work closer and more efficiently.
Posted in: Products