June 11th, 2018 by admin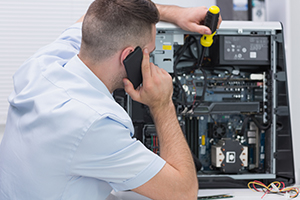 So now that you've got everything installed in your office, you've got your network all setup, your appliances are all running, and it all seems like a good start. Now all you need is an IT service to cover all the needs these things require. So you start looking for a reliable service that can cover all your needs and soon you discover most IT services will only cover your most basic needs. While most other business only cover the bare minimum of service, we at Teletronics pride ourselves on our IT services and the many ways we can help your business.
Our managed IT services cover a variety of things to cover your needs. From antivirus software to daily checks, we'll protect your network and computers. We even run software before we start to identify any problems so we can resolve them before they're a bigger problem. For the long term of our service we will meet with you every 3 months, not only to go over reports but to plan out your IT care regarding your goals. Here are just a few of the other things we offer:
a 24/7 live help desk with real people to work with you through any problems you may have
techs that can be sent to your location when necessary
backup for all your valuable data with the Cloud as well as an onsite device.
Our IT techs also understand VoIP and how to setup your network for your phones to reduce operating costs, unlike some other IT services.
With all of these benefits that our IT department can offer, we are the best choice to help you and meet your needs. From care to even IP camera installations that run on your network, we cover it all. We will stay with you for installation and help you every step of the way forward. So don't settle for the basic IT services others provide. Choose Teletronics Information Systems to fill your service needs.
Learn more about our IT services »
Posted in: Managed IT